Milestone: taught a syllabus!
2018 February 3 Saturday 12:23
OK, not really finished the syllabus, but all of theoretical content, just in time for mock exams. After half-term, looking forward to the opportunity to conduct lots of experiments. Hopefully this will prove to be enjoyable by the students and be useful as revision.
Command terminal tool: calcurse
2018 February 12 Monday 12:34
The power of GNU/Linux is flexibility and that flexibility is evident with the command terminal. After frustration with desktop tools such as Evolution and Orage, Calcurse was tried this week and so far, so good! There is one problem encountered and that was the ical import function: the ical fields 'location' and 'description' are not imported, so to overcome, the field 'summary' was used to enter information about the calendar event.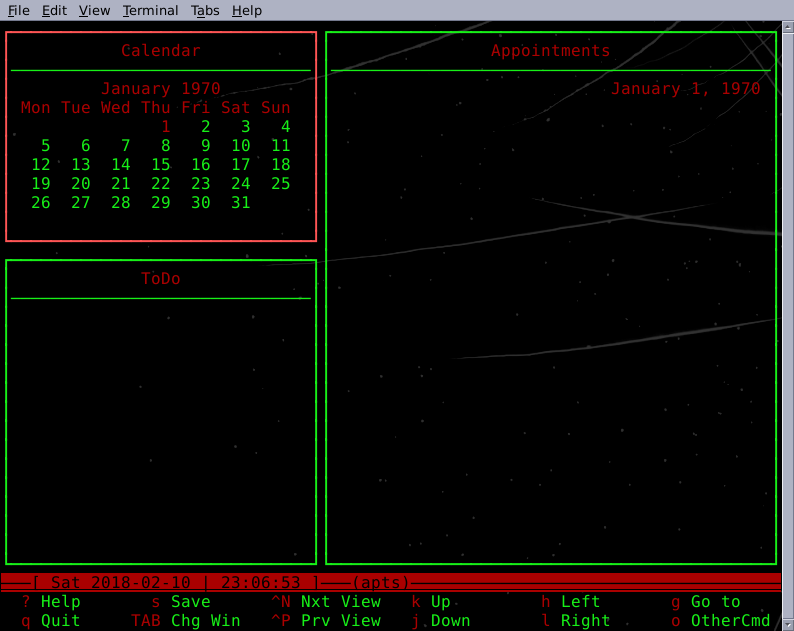 Oh, and gcalcli was found to be too "buggy"; but active steps to avoid using Google is for a separate post...
RSS, social media and a broken web
2018 February 15 Thursday 13:39
By coincidence, this morning was spent using a combination of newsbeuter (now superseded by newsboat) and jedit (a text editor) to tidy up a list of ATOM/RSS feeds. So many broken links or discontinued feeds replaced by corporate "social media". Depressing, because most social media links are to proprietary platforms, when ATOM/RSS is an open platform (remember HTML?).
Then a blogger has written about the death of Google reader and the nonsense of today's broken web becomes apparent.

Read blog post in newsbeuter, blogger invites comment so try to open the blogger's web page
As a user of anonymous proxy servers, the following is a common occurrence; wonder if the blogger is aware (or cares?):


							Pardon Our Interruption...
							
							 As you were browsing www.chronicle.com something about your browser
							 made us think you were a bot. There are a few reasons this might
							 happen:
								 * You're a power user moving through this website with super-human
									 speed.
								 * You've disabled JavaScript in your web browser.
								 * A third-party browser plugin, such as Ghostery or NoScript, is
									 preventing JavaScript from running. Additional information is
									 available in this support article.
							
							 To request an unblock, please fill out the form below and we will
							 review it as soon as possible.
							 Ignore: ____________________Ignore: ____________________Ignore: Submit
							 First Name: ____________________
							 Last Name: ____________________
							 E-mail: ____________________
							 City (Leave Blank): ____________________
							 Request Unblock
							 You reached this page when attempting to access
							 http://www.chronicle.com/blogs/profhacker/track-rss-feeds-yes-rss-with-
							 feedly/65029
						

Similarly with feedly!



							Please enable cookies.
								
								One more step
								
								Please complete the security check to access feedly.com
								
									 IFRAME:
									 https://www.google.com/recaptcha/api/fallback?k=6LfBixYUAAAAABhdHynFUIM
									 A_sa4s-XsJvnjtgB0
								
								
									 _______________________________________________________________________
									 _______________________________________________________________________
									 _______________________________________________________________________
									 _______________________________________________________________________
									 Submit
								
								Why do I have to complete a CAPTCHA?
							

Decided to answer the question here (and notify the blogger accordingly)!
Newsboat is another command terminal tool, to read ATOM/RSS feeds (current list greater than 2500 and counting!). Feeds can be organised into categories, compatible with opml standard (to import/export feeds elsewhere) and is freedom software. All we need is a return to web sites providing ATOM/RSS feeds and not relying on proprietary social media.