If your face don't fit, you ain't ...
2019 May 4 18:02
After the Easter holiday, refreshed and ready to roll for the term ahead, thought it would be good to look at job adverts, have something to aspire to, stimulate the ambition, etc.. The simple reality: it&opas;s not what you know, but who you know.
Having read an article a few months ago about a certain school in a press release, it was with excitement to read an advertisment published in their web site, which appeared in my beloved RSS reader:


In excitement about the possibility of this opportunity, completed overlooked the significance of what was in parentheses: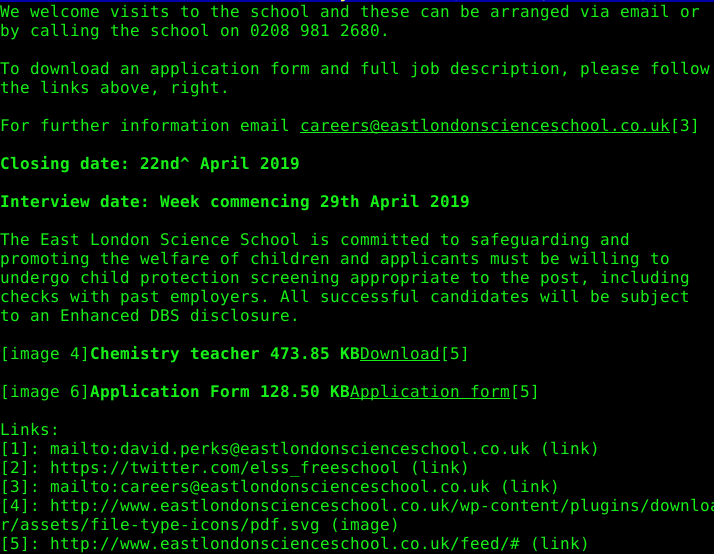 The closing and interview dates confirmed and reminded of the reality. It is not a real advert; they already have the preferred candidate and if you are foolish enough to waste time apply, your fault! :(
Note the non existent hyperlinks to an application form and job description...
Further perusal of the publication timestamps for the so-called "maternity cover" job: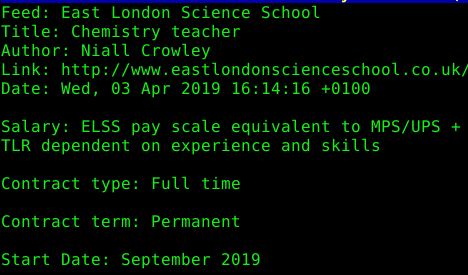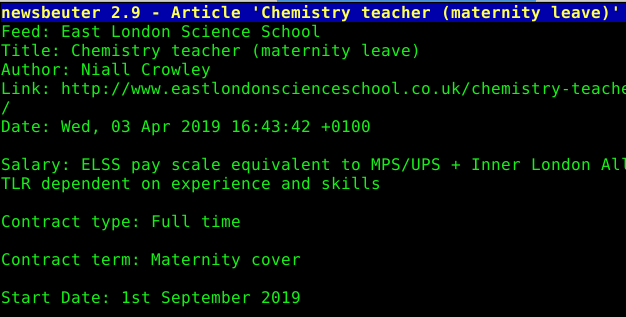 The RSS reader was closed and disappointment set in. Surprisingly, the next day started with a feeling of anger and frustration, with the simple conclusion:meritocracy in education is a fantasy. Instead, some of us must navigate a chumocracy, as colleagues adopt new job titles "assistant this", "deputy that" via appointment open advertisement for meritocratic promotion...
What a cohort!
2019 May 6 Monday 12:46
This year's fifth form (who, the youngers may ask? ;)), were crazy upon start of their gcses: impetuous; capricious; and just plain immature. Fast forward a year and it's difficult to tell how they will perform during their exams which start in a week or so. Some realised the error of their (classmates') ways and became more eager to make up for time wasted. Others realised that the game is up, simply too late and are facing the prospect of re-take maths, English next year. Unfortunately, that may mean not disappearing elsewhere. True, some may return with a reformed, matured attitude, but in truth yours truly would have preferred that most of this (and the subsequent!) cohort had found somewhere else in the first place (prevention better than cure and all that). How can a teacher develop as a master of Technological Pedagogical Content (subject) Knowledge , when so-called behaviour management takes priority?
Inefficiencies of teachers' resources
2019 May 6 Monday 13:39
Occasionally there is mention of "retrieval roulettes" in the blogosphere. It begs the question: do schools fail to provide sufficient resources for teachers, so that they have to spend their own time to develop-find-use resources? What's wrong with the questions in the subjects' textbooks? Are they insufficient? What about questions in extant resources from exam boards, for example AQA? In other nations such as Finland and (south) Korea, teachers are expected to analyse appropriate use of textbooks as planning, so why is there a need and demand for development of a spreadsheet of questions? Sorry, don't get it. Having said that, considering the concept of learning objects, maybe there should be some sort of 'questions' repository for teachers to use. Not sure if a spreadsheet is the right tool...
A week's a long time...
2019 May 9 Thursday 21:57
...in politics, so they say; thus a year in education an epoch?
Last year, the majority of the gcse class were motivated and ambitious. Sadly, this year the opposite seems to be the case considering observations during their final lessons. It must be great to kiss goodbye to the most difficult, least enjoyable subject of their curriculum, eh? :) Is the school environment, its ethos, to blame? Meanwhile, lower p16 students continue to be ill-prepared for any internal tests and the upper p16 are not interested in subject understanding per se, but exam technique. Needs must.
How nervous were they?
2019 May 14 Tuesday 21:04
Earlier today, caught a brief view of the year 11 students walking into the exam rooms. However, afterwards colleagues reported some student felt OK; well done them. Today was biology, Thursday will be the BIG one (biased), chemistry paper 1. So tomorrow, lots of last minute questions are expected to be fired at yours truly.
Sick of surveillance
All that was wanted was to post an ical file to share, but boy is it tedious to do so via a webkit browser and tor. 403 web server errors, buggy web pages that fail to load because of the ecmascript trap. Anyway, it's a bit late, yes, but below are dates of gc(s)e and some btec (level 3) exam dates for all ical compatible software (e.g. personal favourite, calcurse) are below. Copy the text, save as an ical file then import to your tool of choice:


					BEGIN:VCALENDAR
					VERSION:2.0
					PRODID:jedit.org
					CALSCALE:GREGORIAN
					METHOD:PUBLISH
					BEGIN:VEVENT
					SUMMARY: GCSE chemistry 8462/1H paper 1
					STATUS:CONFIRMED
					TRANSP:TRANSPARENT
					DTSTART:20190516T090000
					DTEND:20190516T104500
					LOCATION: 
					DESCRIPTION: 
					END:VEVENT
					BEGIN:VEVENT
					SUMMARY: GCSE chemistry 8462/2F paper 2
					STATUS:CONFIRMED
					TRANSP:TRANSPARENT
					DTSTART:20190612T090000
					DTEND:20190612T104500
					LOCATION:
					DESCRIPTION: 
					END:VEVENT
					BEGIN:VEVENT
					SUMMARY: GCSE chemistry 8462/2H paper 2
					STATUS:CONFIRMED
					TRANSP:TRANSPARENT
					DTSTART:20190612T090000
					DTEND:20190612T104500
					LOCATION:
					DESCRIPTION: 
					END:VEVENT
					BEGIN:VEVENT
					SUMMARY: GCSE combined science trilogy 8464/C/1F paper 1
					STATUS:CONFIRMED
					TRANSP:TRANSPARENT
					DTSTART:20190516T090000
					DTEND:20190516T101500
					LOCATION:
					DESCRIPTION: 
					END:VEVENT
					BEGIN:VEVENT
					SUMMARY: GCSE combined science trilogy 8464/C/1H paper 1
					STATUS:CONFIRMED
					TRANSP:TRANSPARENT
					DTSTART:20190516T090000
					DTEND:20190516T101500
					LOCATION:
					DESCRIPTION: 
					END:VEVENT
					BEGIN:VEVENT
					SUMMARY: GCSE combined science trilogy 8464/C/2F paper 1
					STATUS:CONFIRMED
					TRANSP:TRANSPARENT
					DTSTART:20190612T090000
					DTEND:20190612T101500
					LOCATION:
					DESCRIPTION: 
					END:VEVENT
					BEGIN:VEVENT
					SUMMARY: GCSE combined science trilogy 8464/C/2H paper 1
					STATUS:CONFIRMED
					TRANSP:TRANSPARENT
					DTSTART:20190612T090000
					DTEND:20190612T101500
					LOCATION:
					DESCRIPTION: 
					END:VEVENT
					BEGIN:VEVENT
					SUMMARY: GCE A chemistry 7405/C practical endorsement target
					STATUS:CONFIRMED
					TRANSP:TRANSPARENT
					DTSTART:20190515
					DTEND:20190515
					LOCATION:
					DESCRIPTION: 
					END:VEVENT
					BEGIN:VEVENT
					SUMMARY: GCE AS chemistry 7404/1 inorganic and physical
					STATUS:CONFIRMED
					TRANSP:TRANSPARENT
					DTSTART:20190520T090000
					DTEND:20190520T113000
					LOCATION:
					DESCRIPTION: 
					END:VEVENT
					BEGIN:VEVENT
					SUMMARY: GCE AS chemistry 7404/2 organic and physical
					STATUS:CONFIRMED
					TRANSP:TRANSPARENT
					DTSTART:20190523T090000
					DTEND:20190523T113000
					LOCATION:
					DESCRIPTION: 
					END:VEVENT
					BEGIN:VEVENT
					SUMMARY: GCE A chemistry 7405/1 inorganic and physical
					STATUS:CONFIRMED
					TRANSP:TRANSPARENT
					DTSTART:20190604T133000
					DTEND:20190604T153000
					LOCATION:
					DESCRIPTION: 
					END:VEVENT
					BEGIN:VEVENT
					SUMMARY: GCE A chemistry 7405/2 organic and physical
					STATUS:CONFIRMED
					TRANSP:TRANSPARENT
					DTSTART:20190611T133000
					DTEND:20190611T153000
					LOCATION:
					DESCRIPTION: 
					END:VEVENT
					BEGIN:VEVENT
					SUMMARY: GCE A chemistry 7405/3 paper 3
					STATUS:CONFIRMED
					TRANSP:TRANSPARENT
					DTSTART:20190619T090000
					DTEND:20190619T110000
					LOCATION:
					DESCRIPTION: 
					END:VEVENT
					BEGIN:VEVENT
					SUMMARY: BTEC level 3 nationals applied science unit 1 chemistry 31617/h1c
					STATUS:CONFIRMED
					TRANSP:TRANSPARENT
					DTSTART:20190116T090000
					DTEND:20190116T094000
					LOCATION:
					DESCRIPTION: 
					END:VEVENT
					BEGIN:VEVENT
					SUMMARY: BTEC level 3 nationals applied science unit 3 science
					investigation 31619h part a
					STATUS:CONFIRMED
					TRANSP:TRANSPARENT
					DTSTART:20190108T090000
					DTEND:20190108T120000
					LOCATION:
					DESCRIPTION: 
					END:VEVENT
					BEGIN:VEVENT
					SUMMARY: BTEC level 3 nationals applied science unit 3 science
					investigation 31619h part b
					STATUS:CONFIRMED
					TRANSP:TRANSPARENT
					DTSTART:20190121T090000
					DTEND:20190121T103000
					LOCATION:
					DESCRIPTION: 
					END:VEVENT
					BEGIN:VEVENT
					SUMMARY: BTEC level 3 nationals applied science unit 5 chemistry 31627/h1c
					STATUS:CONFIRMED
					TRANSP:TRANSPARENT
					DTSTART:20190122T133000
					DTEND:20190122T142000
					LOCATION:
					DESCRIPTION: 
					END:VEVENT
					BEGIN:VEVENT
					SUMMARY: BTEC level 3 nationals applied science unit 1 chemistry 31617h/1c
					STATUS:CONFIRMED
					TRANSP:TRANSPARENT
					DTSTART:20190522T090000
					DTEND:20190522T094000
					LOCATION:
					DESCRIPTION: 
					END:VEVENT
					BEGIN:VEVENT
					SUMMARY: BTEC level 3 nationals applied science unit 3 31619h, part a
					STATUS:CONFIRMED
					TRANSP:TRANSPARENT
					DTSTART:20190426
					DTEND:20190426
					LOCATION:
					DESCRIPTION: 
					END:VEVENT
					BEGIN:VEVENT
					SUMMARY: BTEC level 3 nationals applied science unit 3 31619h, part b
					STATUS:CONFIRMED
					TRANSP:TRANSPARENT
					DTSTART:20190509
					DTEND:20190509
					LOCATION:
					DESCRIPTION: 
					END:VEVENT
					BEGIN:VEVENT
					SUMMARY: BTEC level 3 nationals applied science unit 5 chemistry 31627h/1c
					STATUS:CONFIRMED
					TRANSP:TRANSPARENT
					DTSTART:20190610T133000
					DTEND:20190610T142000
					LOCATION:
					DESCRIPTION: 
					END:VEVENT
					BEGIN:VEVENT
					SUMMARY: GCE A(S) results
					STATUS:CONFIRMED
					TRANSP:TRANSPARENT
					DTSTART:20190816
					DTEND:20190816
					LOCATION:
					DESCRIPTION: 
					END:VEVENT
					BEGIN:VEVENT
					SUMMARY: GCSE results
					STATUS:CONFIRMED
					TRANSP:TRANSPARENT
					DTSTART:201930823
					DTEND:201930823
					LOCATION:
					DESCRIPTION: 
					END:VEVENT
					END:VCALENDAR