One opinion too many
2021 July 24 Saturday 22:50
It has been a relative while since the last post, haven't felt particularly motivated until now, although various notes of what to write in the next post, were made. So be ready for a "long" post...
... off; don't care.
"You didn't do X. Why didn't you do Y". Such is the nature of this business (indeed, any business or recruitment and retention of people), that ultimately, either management like you and will be happy to retain you (for now) or not. In the case of the latter scenario, the purpose of the "lesson observation" seems either to recruit in one's own image ((un)conscious bias? Of course (not)!) under the guise of ("right fit with our organisation's ethos"), or merely to gather evidence to justify an eviction. Not bitter! ;)
Version control of documents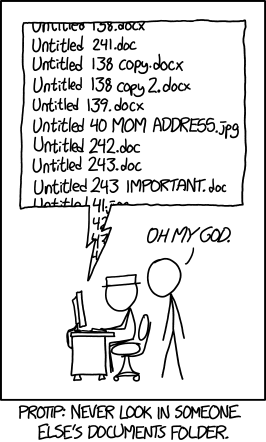 In the software world, version control (usually of plain text files) is an essential process to record changes in the code, revert to earlier versions, describe changes, etc.), but what about version control of documents. Whilst 'Git' has become the dominant software control for, software, an often over-looked alternative is 'mercurial'. In the opinion of citc, mercurial is a simpler software to use and hence quite well suited to those that want to apply version control to documents. For those curious, see an article in 'stack overflow' and Mercurial itself.
Scheme of work, an out-dated terminology?
Department managers have occasionally talked about the need to use the "scheme of work". Upon deeper thought, "work" appears from the perspective of actions by the teacher, whilst "scheme" prompted a reminder of the use of this work in the computer industry to describe the view, organisation of information for subsequent retrieval. A bit more digging (where did the computer people get that concept from?), revealed the source to be from the psychology field, namely the work by Bartlett about how we as humans remember. Fascinating stuff! :)
If the purpose of the scheme is to plan with pragmatism the activities, tasks to complete comprehension of the subject of the curriculum by the students, perhaps the terminology should change from "work" by the teachers, to a "learn [by the students] scheme" plan document.
Webmention: pingdemic pseudo-pandemic
Reply to: fft education datalab
It has been a while since mention was made of sars-cov-2, but recent media references to a "pingdemic" of staff shortages due to the NHS contact surveillance trace software are worthy of comment. There has been a similar impact upon school children; is there a regional discrepancy due to Londoners' eschewing rules on tests and consequences on employment? High living costs are not compensated by any £ 500 payment to "self-isolate". Or is there a greater prediliction by northerners to follow the rules whilst London schools have boxes of un-opened lateral flow diagnostic tests? Or is that there is nice weather, no where to travel to, so stay at the local park in the sun? Silly people, all 20 million or so that chose to download such Orwellian surveillance.
World wide wait for web pages to load
Modern-day web sites are so tedious to read: gratuitous graphics; excessive ecmascript; mindless multimedia, all making a contribution to a sub-optimal experience.
Although equally slow, Mozilla Firefox is able to provide a "digital minimalist" of some web pages, courtesy of "extensions" such as 'no-script' and the ability to view web pages in "no page style". Have recently remembered to use the latter function, which has been helpful.
Web accessibility, extinguised by excessive ecmascript
2021 July 29 Thursday 16:42
Yes, it is that time (again) to rant about the internet technology prevalent today. Firefox 'noscript' extension is a useful tool to gain a view of the methods that programmers have been paid to infiltrate user privacy. Unfortunately, too often it is painful to re-submit information repeatedly after sequential activation of each script source. Consider these examples:
'Google demands vaccinated staff', scripts that need to be activated if comments are to be made;


						…telegraph.co.uk
						…adnxs.com
						…adobedtm.com
						…ads-twitter.com
						…chartbeat.com
						…cxense.com
						…d3qdfnco3bamip.cloudfront.net
						…demdex.net
						…dotmetrics.net
						…facebook.net
						…fyre.co
						…go-mpulse.net
						…google-analytics.com
						…googletagmanager.com
						…googletagservices.com
						…grapeshot.co.uk
						…indexww.com
						…infinity-tracking.net
						…livefyre.com
						…omtrdc.net
						…outbrain.com
						…permutive.com
						…petametrics.com
						…polyfill.io
						…quantummetric.com
						…quora.com
						…scorecardresearch.com
						…skimresources.com
						…taboola.com
						…tinypass.com
					
Or '
cyclist conviction for collision into pedestrian
';

						…independent.co.uk
						…ampproject.org
						…consensu.org
						…dotmetrics.net
						…doubleclick.net
						…google.com
						…googletagmanager.com
						…indexww.com
						…jwplayer.com
						…moatads.com
						…newrelic.com
						…playinc.uk.com
						…tinypass.com
					
However, with consistent demand for programmers that possess such ecmascript skills, who can argue against the broken web?
(Optional paleskin) penis privilege
Is it simply a consequence of testosterone, that from colonisation of non-European lands and cultures, to denial of simple rights such as that to vote, there is now an obsession to infiltrate the female body and colonise that (again) too? Who else but the aforementioned demographic can so vociferously proclaim unlimited rights, regardless of predecessors? What is the logical purpose of a male body with an inherent biological advantage of physical strength, to assume that of a female, self-proclaim female classification and subsequently compete in an endeavour (e.g. physical sport competition) for personal gain? The analogy is the ludicrous scenario of an illegal performance enhancement athlete, gets caught, fined, banned for a short period of time, then resumes without any decline in the physical enhancements that the drug consumption provided.
Further reading examples, just to highlight the continued subjugation of females and/or non-Europeans:
"transphopic" school teacher (source: Teachers' Standard misconduct investigations);
what is the justification for female athletes not to wear shorts, instead of some other gratuitous, scantily-clad alternative?;
a swimming cap for African hair needs "further review" for Olympic sport approval.
Olympic sport television coverage this year has been a disappointment, but not a surprise if auctioned to the highest bidder. On a separate not, the Tokyo Olympics 2020 logo is really aesthetic, compared to the brashness of the London logo!
Live, to work
2021 July 31 Saturday 14:56
Summer holidays, one of the great advantages of this job; a time for some self-review. Progress compared to peers? Pitiful in comparison. Recognition, promotion, relationships, all weaknesses to progress. One can only try one's best; what will be, will be; no idea of the future...
End of mini-depression, pseudo-philosophy. Time to go find something to do: be active! :)